Harding cruised into the 2014 GAC Tournament championship as the top seed with a 29-1 record and riding an 11-game winning streak.
Southwestern didn't exactly limp into the title tilt, but certainly didn't cruise in as the Lady Dawgs had gone 5-4 in February and were 18-10 overall.  No. 3 seed SWOSU beat sixth seeded Henderson State by six and No. 2 seed East Central by four to advance in the tournament.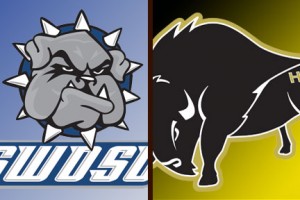 The Lady Bisons had already shown their strength in the regular season, winning both contests over the Lady Dawgs by an average of 20.5 points per game.
But this was not a ball team lacking in confidence or experience.  It was the third straight year for SWOSU to advance to the championship, losing in overtime in 2013, but winning in 2012, 69-58, over Harding.
Southwestern went up early with solid three-point shooting and intense offense from Taryn Sayama and was up by 11 points less than eight minutes into the game.  But Harding started to get some shots to fall and get some defensive stops and trailed by only one at halftime, 37-36.
It was Harding's turn to start the half fast.  The Lady Bisons went on an 18-4 run in the first five minutes of the second half and led 54-41.  HU held that kind of margin until just before the 8:00 media timeout, up 68-55.
Southwestern's seniors then put together a run that will long be remembered in Weatherford.
Michelle Fisher, Sarina Sayama, Sarah Mendoza and Jaimee Cohen scored 19 points in the 23-6 run the Lady Dawgs put together over the final eight-plus minutes.  Fisher's drive to the basket gave SWOSU a 76-74 lead with :55 seconds left and Kylie Boggess put in two free throws in the closing seconds to ice the game.
Southwestern won 78-74 and earned its second consecutive trip to the NCAA Division II National Tournament.
Top 10 of 2014 – Honorable Mention
Top 10 of 2014 – No. 10: Savage Storm tops Golden Hurricane
Top 10 of 2014 – No. 9: Bison run in the SAC Tournament