Oklahoma Baptist wound down another fantastic athletic season in May on its way to a third straight NAIA Learfield Sports Directors' Cup. It would be the final one as OBU makes the transition to NCAA Division II.
The Bison won nine national titles in the NAIA Outdoor Track and Field Championship.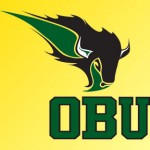 OBU legend Hannah Fields won three of them.
The senior from Edmond finished a stellar career winning the 800 meter (2:06.21), the 1,600 meter (4:27.33) and was a member of the 4×800 relay (8:47.37).
Elizabeth Dadzie won two more by herself and earned All-America honors in four events.
She took the title in the 100 meter hurdles (13.42) and the long jump (20-3). She was also fourth in the triple jump (38-11) and sixth as a member of the 4×100 relay (47.51).
Dadzie was also named the Most Valuable Performer for the meet, an honor she also won in the indoor meet.
Top 10 of 2015: No. 1 – Fields, Dadzie lead OBU out of the NAIA in style
Top 10 of 2015: No. 2 – Stars repeat as national champions
Top 10 of 2015: No. 3 – Bison baseball wins 30 straight
Top 10 of 2015: No. 4 – ECU's Davis hits walk-off grand slam
Top 10 of 2015: No. 5 – Sooners win ninth men's gymnastics national championship
Top 10 of 2015: No. 6 – OKWU men's soccer notches 20 wins
Top 10 of 2015: No. 7 – McKenzie tops 100-yard mark in seven straight games
Top 10 of 2015: No. 8 – Luedtke posts triple-double in final match
Top 10 of 2015: No. 9 – SWOSU tops Ouachita in GAC opener
Top 10 of 2015: No. 10 – The streak is over
Top 10 of 2015: Honorable Mention
Top 10 of 2015: Plus