The differences in Oklahoma City coach Latricia Trammell's teams from 2013-2014 to 2014-2015 were big. But the end result from both teams was the same.
A national championship.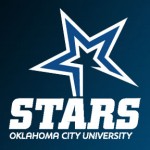 OCU repeated as NAIA women's basketball champions in March, with a largely new cast of characters. It marked the eighth title for the program, and third in four years.
The Stars (30-2) finished with 30 wins for the 11th time in 15 years. OCU handled Campbellsville (Ky.), 80-63, in the championship game.
Yvonte Neal was named the NAIA tournament's MVP as she averaged 18 points, seven rebounds and two steals per contest through the five-game run.
Rateska Brown lit it up in the final with 29 points, eight rebounds, five assists and three steals and earned a spot on the All-Tournament First Team.
Ouleymatou Coulibaly was on the All-Tournament Second Team, and recorded a double-double of 19 points and 14 boards in the title game.
Brown and Coulibaly were also named First Team All-Americans and Neal was listed as an Honorable Mention All-American.
Coach Trammell picked up honors herself as the Phyllis Holmes Coach of the Year for 2015.
OCU got a real scare in the opening game in Frankfort, Ky. Coulibaly put in two free throws with 0.3 seconds left to lift the Stars over Lewis-Clark State, 63-61. However, the average margin of victory in the next four games was 23.0.
After three years at OCU, Trammell stepped down in June to take an assistant coach position at NCAA Division I Georgia State. Bo Overton has taken the reins of the program.
Top 10 of 2015: No. 2 – Stars repeat as national champions
Top 10 of 2015: No. 3 – Bison baseball wins 30 straight
Top 10 of 2015: No. 4 – ECU's Davis hits walk-off grand slam
Top 10 of 2015: No. 5 – Sooners win ninth men's gymnastics national championship
Top 10 of 2015: No. 6 – OKWU men's soccer notches 20 wins
Top 10 of 2015: No. 7 – McKenzie tops 100-yard mark in seven straight games
Top 10 of 2015: No. 8 – Luedtke posts triple-double in final match
Top 10 of 2015: No. 9 – SWOSU tops Ouachita in GAC opener
Top 10 of 2015: No. 10 – The streak is over
Top 10 of 2015: Honorable Mention
Top 10 of 2015: Plus