Oklahoma Baptist baseball is perennially a power.
The Bison had their fifth consecutive season winning 40-plus and second straight of more than 50 wins with a 53-8 record in 2015.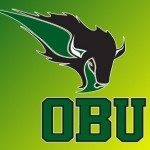 OBU made it back to the NAIA World Series for the fifth time and it was the second consecutive trip to Lewiston, Idaho.
To win that many games in a season, a team would have to put together a lot in a row, like the Bison did with a 19-game winning streak which ran through the entire month of April and into May and the Sooner Athletic Conference tournament.
But that was just the second longest streak of the season.
OBU opened the year with 30 straight wins. The Bison were 30-0 through February and most of March, before stumbling against Oklahoma City.
The loss actually started a four-game losing streak for the Bison that led to the next 19 games in which they picked up wins.
During the 30 victories to open the year, OBU outscored its opponents 252-64, and the pitching staff recorded nine shutouts.
Top 10 of 2015: No. 3 – Bison baseball wins 30 straight
Top 10 of 2015: No. 4 – ECU's Davis hits walk-off grand slam
Top 10 of 2015: No. 5 – Sooners win ninth men's gymnastics national championship
Top 10 of 2015: No. 6 – OKWU men's soccer notches 20 wins
Top 10 of 2015: No. 7 – McKenzie tops 100-yard mark in seven straight games
Top 10 of 2015: No. 8 – Luedtke posts triple-double in final match
Top 10 of 2015: No. 9 – SWOSU tops Ouachita in GAC opener
Top 10 of 2015: No. 10 – The streak is over
Top 10 of 2015: Honorable Mention
Top 10 of 2015: Plus