It was the first time in the Great American Conference Men's Basketball Tournament history that a No. 8 seed won a game.
Southwestern pulled it off with a 71-67 overtime victory over Ouachita in March.
The Bulldogs came in with momentum because they had to fight and claw just to get into the tournament. SWOSU needed to win four of its final five regular season games to claim a berth. They won four in a row before falling in the season finale to on Senior Day.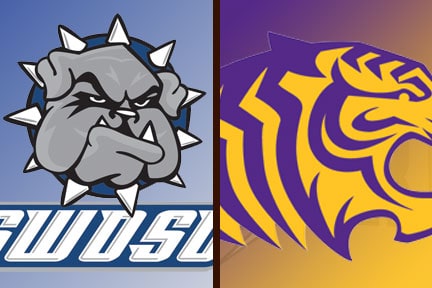 But the winning mindset, and an attitude of just not giving up, helped Southwestern in the GAC opening round. They trailed the Tigers by three at the half and seven, 53-46, with five minutes remaining before making a final push.
Kenyan Borders scored 10 of the next 13 points for the Bulldogs and knotted the game at 59-apeice with 28 seconds left.
Ouachita held for a late shot and Micah Delph missed a three-pointer, which was rebounded by Martell Collins and then Collins was fouled. With four seconds left, Collins calmly hit two free throws to give SWOSU a 61-59 lead. But the top seed wouldn't go away quietly.
The Tigers got the ball down the court quickly and Colt Fason hit what was signaled at first by the officials to be a game-winning three, but replay showed the shot to be a two-pointer and the game, tied at 61-61, headed to an extra session.
Southwestern got a layup from Borders early in OT and never trailed in the period. A balanced attack by the Bulldogs was clear as six different players scored in overtime. Oliver Willis' two made free throws with one second left gave his team a two-possession lead and the game's final margin of four points.
Five players scored in double figures, led by Borders and Trent Washington with 15. Those two, along with Collins who scored 13, logged at least 40 minutes on the court in the win.
Southwestern fell the next day to the eventual tournament champion Arkansas Tech, 85-74, and ended the season with a winning record of 16-13.
Top 10 of 2015: No. 4 – ECU's Davis hits walk-off grand slam
Top 10 of 2015: No. 5 – Sooners win ninth men's gymnastics national championship
Top 10 of 2015: No. 6 – OKWU men's soccer notches 20 wins
Top 10 of 2015: No. 7 – McKenzie tops 100-yard mark in seven straight games
Top 10 of 2015: No. 8 – Luedtke posts triple-double in final match
Top 10 of 2015: No. 9 – SWOSU tops Ouachita in GAC opener
Top 10 of 2015: No. 10 – The streak is over
Top 10 of 2015: Honorable Mention
Top 10 of 2015: Plus