UCO Sports
Chris Brannick, Director of Sports Media Relations
EDMOND – The University of Central Oklahoma today announced Eddie Griffin will return to his alma mater as the new director of athletics during a press conference at Wantland Stadium.
Griffin comes to UCO after serving as the president of the Oklahoma Sports Hall of Fame and Jim Thorpe Association. He also served as an athletic director for Oklahoma City Public Schools and Northeastern State University, as well as head wrestling coach at Clemson University.
Griffin, who graduated with his Master of Education from Central and later became the head wrestling coach for the Bronchos, helped lay a foundation for success in athletics at UCO. He led the Bronchos to three of their first four national championships in wrestling. In 2008, Griffin was inducted into the UCO Athletic Hall of Fame.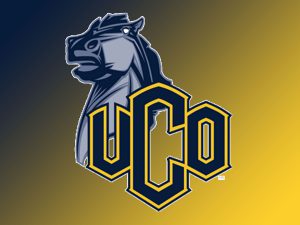 "I'm excited to bring Eddie home to the place of much of his early success," said Kevin Freeman, vice president for operations at Central. "I am confident that his passion and determination will propel UCO Athletics toward even greater success.  Most importantly, he wants to enable each and every one of our student athletes to excel in the classroom, as well as their sport."
UCO President Don Betz echoed this sentiment, commenting on Griffin's widespread connections across Central, the greater community and the state.
"We are delighted to welcome Eddie Griffin back to UCO. Eddie's relationships with Central's alumni and his network of colleagues and friends throughout Oklahoma and beyond will be distinct assets for UCO's athletic programs," Betz said.
Griffin, who will start his new position on Oct. 16, said he is ready to get to work.
"The history and legacy of Broncho athletics is something special. It's an exciting time to be at UCO. With the support of our donors, we will continue to build on the spirit of campus. Our goal will be to win championships in sports, as well as in life, for our student athletes," Griffin said.
Prior to coaching at Clemson University, Griffin's four-year run as UCO's head wrestling coach not only set the tone for the Bronchos to become one of the most revered programs in the country, but it rivals that of any coach in the sport.
He was named the Rookie Coach of the Year by Amateur Wrestling News in 1979. He coached 26 All-Americans, 11 individual national champions and put together a 40-18-1 dual record that included wins over Alabama, Arizona, Brigham Young, Oregon and Washington. Griffin was named National Association for Intercollegiate Athletics (NAIA) National Coach of the Year three times in four seasons.
Griffin's 1981 team was perhaps the best in NAIA history, scoring a tournament-record 155.25 points and crowning six individual champions, while running away with the title. The Bronchos won again in 1982.
"I want to thank President Betz and the UCO leadership for allowing me to have this great opportunity to lead the UCO Athletic Department. I look forward to working with all and am excited about the future of UCO Athletics," Griffin said.
The UCO Bronchos compete in nine women's and five men's sports as a member of the Mid-America Intercollegiate Athletics Association. The university's athletics program has a rich tradition of success, with 18 national championships and more than 400 All-Americans throughout its history.