UCO Sports
Chris Brannick, Director of Sports Media Relations
EMPORIA, Kan. – The University of Central Oklahoma baseball team Thursday lost 4-0 to Minnesota State in the NCAA Tournament opening-round game at the Central Regional.
Holden Capps got the start for the Bronchos, and threw a great game, striking out seven in six innings of work. Capps allowed a run in the bottom of the first after a single, a sacrifice bunt, and an RBI-double.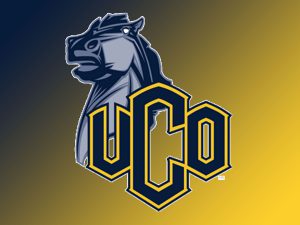 But then he settled in, and later struck out four batters in a row. He finished the day allowing two runs on seven hits, keeping the Bronchos close throughout the game. He also moved up to fifth-place on the list for most strikeouts in a single season in UCO history with 91, and fifth-place on the list for most innings pitched in one season with 94.
"We ran into quite the buzz-saw with Minnesota's pitcher," UCO head coach John Martin said. "Capps did great today but our guys just couldn't get enough going offensively."
Ben Wusterbarth threw an inning of relief work for the Bronchos in the seventh, and Greg Hyde threw two more. Hyde allowed a two-run home run in the bottom of the eighth for Minnesota State's final two runs.
UCO was limited to just three hits on the day.
The Bronchos threatened in the top of the third. Caleb Peters got the first hit of the game for the Bronchos, swinging on the first pitch of the at bat and slicing a shot through the left side of the infield for a single. Justin Brown then was hit by a pitch and Jake Dyer drew a walk to load the bases. But Korey Floyd struck out and Brenton Washausen popped out to end the inning.
The Bronchos didn't get another hit until the top of the seventh when Anthony Alvarez hit a two-out blooper into right field. But after Kyle Miskovsky drew a four-pitch walk to put two runners on, Peters grounded into a fielder's choice to end the inning.
UCO's only other hit of the game was a pinch-hit dribbler through the right side by Trae Smith in the top of the ninth.
Central Oklahoma is now scheduled to play the loser of Game 4 between St. Cloud State and Missouri Western. That game was postponed late Thursday and rescheduled for Friday morning at 10 a.m. due to rain. UCO is scheduled to play the loser of that game on Friday at 4:30 p.m.
NCAA Central Regional
At Emporia, Kan.
Thursday's Games
G3: Minnesota State 4, Central Oklahoma 0
G2: Lindenwood 14, Southern Arkansas 7
G1: Emporia State 10, Arkansas-Monticello 8
Friday's Games
G4: St. Cloud State vs. Missouri Western, 10 a.m.
G5: Arkansas-Monticello vs. Southern Arkansas, 1:15 p.m.
G6: Central Oklahoma vs. Loser G4, 4:30 p.m.
G7: Emporia State vs. Lindenwood, 7:45 p.m.
Saturday's Games
G8: Minnesota State vs. Winner G4, 10 a.m.
G9: Winner G6 vs. Loser G7, 1:15 p.m.
G10: Winner G5 vs. Loser G8, 4:30 p.m.
G11: Winner G7 vs. Winner G8, 7:45 p.m.
Sunday's Games
G12: Winner G9 vs. Winner 10, noon
G13: Winner 12 vs. Loser 11, 3:30 p.m.
Monday's Games
G14: Winner G11 vs. Winner G13, noon
x-G15: Winner G14 vs. Loser G14, 3:30 p.m.
x-if necessary; Game 15 necessary if loser of game 14 has one loss