The Central Bronchos are coming off their best season in years and it was reflected in the preseason league polls.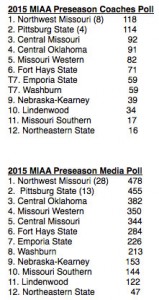 UCO is third in the MIAA preseason media poll, behind last year's co-champions Northwest Missouri in first and Pittsburg State in second.
The Bronchos were narrowly edged by one point in the coaches' poll by Central Missouri and showed up at fourth in that ranking. They were picked 10th in last season's polls.
UCO went 8-4 in 2014 and made an appearance in the Mineral Water Bowl.
Northeastern State was picked to finish 12th in both polls. The RiverHawks were 0-11 last year.