From UCO Sports Info.
Mike Kirk, Assistant Athletic Director for Media Relations
JEFFERSON CITY, Mo. – Marley Anderson and McKenzie Solberg combined for 24 of their 35 points in the first half to stake Central Oklahoma to a comfortable lead and the Bronchos went on to an 82-64 drubbing of Lincoln here Saturday afternoon.
UCO tied a single-game school record by hitting 15 3-pointers, getting at least one trey from seven different players.
A Solberg 3-pointer less than two minutes into the game to put the Bronchos on top 5-3 and UCO never trailed again, going ahead 35-25 by intermission and cruising in from there.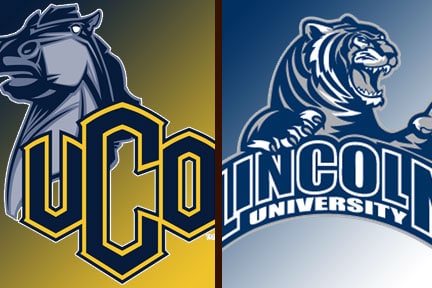 The Bronchos improved to 6-1 on the season and 2-1 in Mid-America Intercollegiate Athletics Association play in bouncing back from its first loss of the season last Saturday at Pittsburg State.  The Blue Tigers fell to 4-4 and 0-2.
"It's big anytime you can win on the road in this conference," head coach Guy Hardaker said.  "We obviously shot the ball really well from outside and I thought we also did a nice job creating turnovers and taking care of the ball."
UCO had 13 steals while forcing 28 turnovers and committed a season-low 13 miscues.  The Bronchos overcame LU's 42-28 rebounding advantage with their outside sharpshooting, hitting 15-of-31 (48.4 percent) attempts from beyond the arc.
The 15 made 3-pointers tied the single-game mark set against Oklahoma Panhandle in 2008 and tied against Science & Arts of Oklahoma in 2011.
Anderson was 4-of-5 from long range in finishing with a game-high 18 points in addition to handing out four assists.  Solberg had 17 points, four rebounds, three assists and two steals after making 7-of-12 shots with three treys.
The Bronchos also got nine points from Bailey Taylor and each from Julia Mason and Madison Lee.
UCO led 19-14 after the opening quarter, pushed that to a 10-point advantage at 28-18 on an Anderson 3-pointer at the 4:56 mark of the second and got a trey from Solberg at 0:32 to that a double-digit lead (35-25) into the break.
The Blue Tigers got within seven at 43-36 three minutes into the third period, but Lee answered with a 3-pointer and Megan Woman followed an LU miss with a layup to make it 48-36.
Taylor swished a last-second trey to give UCO a 15-point cushion (60-45) heading into the final stanza and the Blue Tigers got no closer than 12 the final 10 minutes.
The Bronchos move on to St. Charles, Mo. Monday to face Lindenwood at 5:30 p.m.