At the midpoint of the Great American Conference basketball schedule, the Northwestern women's basketball team finds itself right in the middle of the pack.
The Rangers are 5-6 in league play and are resting alone in the sixth spot in the standings.
On the surface, it may not seem stellar. But it is light years from the 0-22 conference record the team posted last season.
And the team and program look to be on the rise with a new coach and a new attitude.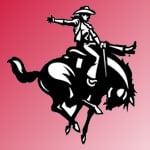 Head coach Tasha Dieselhorst in the third to lead the program in three years and the fifth head coach since the 2010-2011 season.
Dieselhorst brings a tough mentality and up-tempo pace to Northwestern. She said she is happy with where the team is right now.
Her roster is made up almost completely of guards. In fact, there is only one player not listed as a guard. And with that small lineup, she credit the team's defensive play for the early success.
"The girls have really improved defensively as the season has gone on," Dieselhorst said. "And we are undersized, but I do like guard play.
"But I would like to have a few more post players than we do right now. We're hoping to add to that next year.
"Give the girls credit, though. We're undersized every night, but they have done a good job of sticking to the game plan to help us combat that. They've really worked on blocking out and rebounding because we know we're going to have to battle on the boards every night. They've just kind of bonded to what we're doing and done a good job defensively."
The Rangers are fourth in the GAC as a team in steals with 8.4 per game.
And Dieselhorst is getting some offense as well. Junior Kalea King is currently the league's second leading scorer, putting in 16.1 points per game.
"Kalea have just been the staple to our program right now," Dieselhorst said. "She does everything for us and she get hers every night, whether she scoring, rebounding, getting the steals, taking charges – she just does what she does. And the other ones feed off her."
Since her arrival, Dieselhorst has been fortunate to have a couple of transfers head to Alva as well, including former Hammon star Kori Barrios.
"Kori has gotten going lately, especially with her three-point shot," Dieslehorst said. "And when she gets going, she stretches defenses and makes thing harder for teams to guard us.
Barrios was held in check at Southeastern with her least amount of time on the court at 14 minutes played, and just two points. It was the only game this season in which she didn't make a three-pointer.
Something must have clicked.
Barrios was on fire last week, helping her team to a 3-0 record in a five-day stretch.
"I just came out with the mindset that we needed to win," Barrios said. "I played with mental toughness and wanted to play together as a team and work hard and attack the rim. To shoot the ball and hope it goes in, you know."
She went 7-of-17 from behind the arc during the three games. And Barrios rose to the occasion against rival Southwestern, scoring 29 points and bringing in eight boards. The junior is averaging 10.0 ppg for the season, but that number was 18.3 ppg last week.
Barrios took a long route to get to Alva. She was a two-sport athlete in high school, playing softball as well, and played both sports at Northern Oklahoma College in Enid for two years.
Then she headed to Orem, Utah, to play softball at D-I Utah Valley University. But she said she really wanted to come back home. And after a visit to NWOSU and Dieselhorst, the deal was done.
"I love it. My parents get to come watch more often and I'm around a lot more of my friends and my family. It's a lot better than being 17 hours away."
So with the first half of the GAC slate in the books and the team working to put itself in a position to make the postseason, the question is how Dieselhorst's undersized team can keep up the energy in the second half.
"I think our confidence level as a team is really high right now," Dieselhorst said. "They believe in each other and they believe in themselves in what we're doing.
"So right now the energy level is extremely high within our program. That's one thing they know every given night is that they've got to go out and bring the energy and bring the effort and just play hard.
"We feel like if we play hard and if we do the little things right, we will be able to compete in most games. And they're starting to figure that out. And they've had success when they do play hard."
Northwestern starts that second half of the 22-game Great American Conference schedule with the top two teams in the league heading to Alva this week. The Rangers host Arkansas Tech on Thursday at 5:30 p.m. and preseason favorite Harding on Saturday at 1 p.m.
Also read:
Useful reference at monicashealthmag.com
Sponsored Content