By Kevin Green
OKLAHOMA CITY – Don't sleep on Dion Waiters.
With under three minutes to play and down two, Oklahoma City desperately needed a run. Late-game heroics normally fall on the shoulders of Kevin Durant and Russell Westbrook, but this time that responsibility belonged to Waiters.
Back-to-back fadeaway jump shots are all it took for Waiters to spark a run, helping the Thunder defeat San Antonio 112-106 in Chesapeake Energy Arena on Wednesday.
"Dion gave us a huge lift; knocking a couple of really, really key shots," coach Billy Donovan said.
Durant said having Waiters on the floor late makes the offense less predictable and for good reason; no one saw him coming.
Early in the fourth quarter, Waiters missed two shots and committed a turnover. Donovan noticed Waiters' struggles and immediately subbed him out with 9:37 left. Donovan gave Waiters a few minutes to gather himself before sending him in for D.J. Augustin.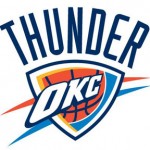 "I think Dion's one of those guys that has a lot of confidence and belief in himself," Donovan said. "Sometimes I think when he's out there with the second unit, there are times maybe he feels he has to do maybe more than he needs to because he's trying to add some life into the group, which is fine because I want him to be aggressive, but I give him credit because he kept his focus coming out, and then going back in the final five minutes."
Leading 103-101 after a Tony Parker driving layup with 2:33 left, the Spurs looked to shut down Westbrook, assigning Danny Green to guard him. However, that left Parker marking Waiters, who has a four-inch advantage on Parker.
Westbrook identified the mismatch and Waiters did the rest.
Twenty-one foot fadeaway.
Bang.
A Serge Ibaka block later, Waiter had the ball in his hands again. He backed Parker down to the right block, planted his right foot and swung his left foot around to push off for yet another fadeaway, this time from 14-feet.
Bang.
"Got a chance to do what I do," Waiters said. "We went to the mismatch, and I made big shots."
Waiters' second fadeaway gave the Thunder a 105-103 lead with 1:34 remaining, and for one glorious, fleeting moment, Waiters was the hero.
After the game, Waiters was all smiles.
"It felt great," Waiters said. "Go out here, get a chance to do what I do and my teammates trusted me."
Waiters finished with eight points on 4-of-8 shooting and had the highest plus-minus of the game at +15.
The defense did its job, holding the Spurs to 1-of-7 shooting in the final two minutes, allowing Durant and Westbrook to cap off an 11-3 run to put San Antonio away for good.
Donovan said he liked what he saw from his team late.
"I was really, really just very pleased with the way our guys just kind of kept their composure," Donovan said. "They kept peddling, they kept fighting, and I think everyone knew it was going to be a game that was kind of going to come down that way."
Of course, it wouldn't be a Thunder game if Durant and Westbrook didn't perform at a high level.
Westbrook picked up where he left off last season, recording his first double-double of the season (33 points and 10 assists).
Durant, though looking a little rusty, contributed 22 points on 6-of-19 shooting in his first regular-season game since February.
"I had some in-and-out looks tonight," Durant said. "My looks felt great but to hit that one was big for our team. My teammates trust me and I was struggling shooting the basketball but they stuck with me."
Enes Kanter, fresh off signing a max deal with OKC in July, tallied 15 points and 16 rebounds in 24 minutes.
"We're all getting used to playing with each other and everybody getting back into the groove of things," Westbrook said. "Once we get it clicking, it's going to be hard to stop us."
The victory gave Donovan his first regular-season win as an NBA coach, something Durant said "felt good" to do.
"I know it's one of many games, but to give him his first 'W', especially at home on a huge stage against a big time team, it felt good," Durant said. "He was calm all night and that kind of rubbed off on us."
Despite surpassing a new milestone in his illustrious career, Donovan chose to shift the focus off himself and give the credit to his players.
"You know, hopefully in some small way, you know, hopefully I was able to help out in some way," Donovan said. "But, I think again, Kevin is out there, Russell is out there, Dion Waiters is making shots, Serge, those guys out there played. They are the ones who really got it done, I was just happy to be a part of it."