It's Classic Bowl time again in Woodward.
The week-long celebration of talent in basketball, band, cheerleading and football for high school girls and boys in the northwest Oklahoma, southwest and south central Kansas and the Texas panhandle.
C.J. Montgomery is the director of the event and the president of the Woodward Chamber of Commerce. He has been a part of the growth of this regional festival for more than 20 years.
"It was born, I guess from an idea of coverage, or maybe lack thereof, geographically of this part of the world," Montgomery said. "It seemed to be a bit far away from Oklahoma City, and for Texas schools, a bit far away from Amarillo and for southwest and south central Kansas away from Wichita in terms of media coverage.
"The concept actually was born from the radio station K101, it began in 1984 doing a program we call Friday Night Quick Scores, not covering one game, but 50 or 60. From that we determined there was an opportunity to recognize outstanding young people and their achievements. And that's what has happened since. In all, there are 91 high schools that are part of the K101 Classic Bowl foundation school family."
The 27th edition of this event gets underway each year following the Memorial Day holiday weekend.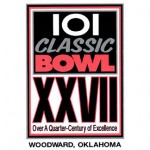 "On Tuesday of Classic Bowl week, it is girls basketball," Montgomery said. "They're in and out one day. Two games and they are divided not by school size or east-west or anything. The committee tries to distribute the talent equally. We play two games at Boomer Fieldhouse. We re-run that on Thursday with boys basketball.
"On Wednesday, we welcome the arrival of just under 225 honor band members that form a band marches in a huge parade on Saturday afternoon and perform a marvelous, marvelous halftime show at Boomer Field during the football game.
"The cheerleaders arrive and there is competition and the banner contest. The cheerleading competition is primarily confined to Saturday and probably about 150 cheerleaders participate on average each year."
An week-long event like this necessitate a large number of people to see it through, and Montgomery says that he has that in Woodward.
"We've been really fortunate. I get tremendous support from the community. It has just grown leaps and bounds. There are great kids everywhere. And obviously, in this part of the world, we think there we have some wonderful young men and women.
"We welcome the football guys in that next Tuesday morning (after Memorial Day) and we house the teams in the local hotels and we house our band kids in private homes. Woodward has always been tremendous to us in terms of housing those band kids on Wednesday, Thursday and Friday nights before the big game on Saturday."
The Classic Bowl foundation also sees to it that a student's financial situation should not be a factor in attendance or memorabilia.
"Our philosophy – and I know there are some all-star games in which you have to sell so many tickets if you are going to keep your game jersey – out philosophy has been that we really don't care whether a young man or young woman comes to Woodward with a dollar in their pockets or a hundred dollars, they pay for absolutely nothing.
"All their housing, all their meals, all their game jerseys and t-shirts and everything are on us. We don't want them to incur any expenses while they are here for Classic Bowl."
Scholarships are also given to students in each of the sports and activities.
Friends and family can also listen to the Classic Bowl on radio stations throughout the area.
"We put together a six- or seven-station radio network and we've been really fortunate to have the guy that does Oklahoma State football and basketball, who is a pretty good friend, Dave Hunziker, to do play-by-play for us. He has done it for the last three or four years. Bob Barry, who was a dear friend as well, did the first 12 or 13 years for us."
The game can also be heard online on the K101 website.
The Classic Bowl parade will start at 2 p.m. on Saturday and the week ends with the football game, starting at 8 p.m.