From MACU Sports Info.
By Levi Convirs, Sports Information Director
Russellville, Ark. — Jarius Wilson knocked down a clutch three-pointer with six seconds remaining to give the Mid-America Christian University Evangels a huge 89-88 victory over the NCAA II Arkansas Tech Wonder Boys in an exhibition battle Saturday morning (Nov. 16) in Russellville, Ark.
The win is the Evangels second exhibition victory over an NCAA II squad this season, as MACU also defeated Southwestern Oklahoma State University 91-73 earlier this season.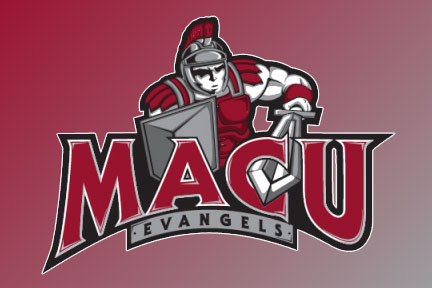 The Evangels took home today's victory by scoring the last seven points of the game over the last 1:33.
After Clarke Overlander hit a layup to put the Wonder Boys up 88-82, Angelo Lewis put in a second chance bucket and then took a defensive rebound in for a layup and drew the foul that cut the deficit to just two with 28 seconds remaining.
Lewis missed the free-throw and the Evangels were forced to foul with 17 seconds left, but Kendell Pinkney missed the front end of a 1-1 opportunity and Lewis secured the rebound and found Wilson for the game-winning trey.
Following a timeout, the Evangels didn't allow the Wonder Boys to get off a potential winning shot in the final seconds.
The Evangels led for much of the early going before Darrick Little scored seven points to fuel a 12-0 spurt that put ATU ahead 30-21 at the 9:38 mark of the first half.
The Wonder Boys led the remainder of the opening half and carried a 53-47 edge into the break.
MACU didn't lead again until Luke Mergerson scored inside for a 61-60 advantage at the 15:25 mark of the second half.
An 8-2 spurt by the Wonder Boys built the lead to five again, but Reggie Davis caught fire with two threes and a layup that gave MACU another lead of 71-70 with 10:11 left.
Semar Farris led a balanced attack for the Evangels (3-1) with 17 points, with Lewis scoring 16 and securing a game-high nine rebounds.  Josh Smith had 15 points and Wilson added 14.  Davis also reached double-figure scoring with 11 points and Josh Minner had a team-high five assists.
The Wonder Boys also received double-digit scoring from five players, led by Willie Rodgers' 15 points.  Charles Mells scored 12 and Pinkney chipped in with 11.  Little and Clarence Willard each scored 10.
MACU flexed its muscle on the boards, out-rebounding ATU 39-30 overall and 17-9 on the offensive glass.
The Evangels will continue their exhibition schedule at NCAA II Dallas Baptist University on Saturday night (Nov. 23) at 7 p.m. in Ft. Worth, Texas.