If is wasn't for the current assistant volleyball coach at Southwestern, the current head coach wouldn't be there today.
In fact, he likely wouldn't be coaching volleyball at all.
And that's a refrain that could be played over and again about the coaches who have gotten their starts thanks to SWOSU assistant volleyball coach "Coach Bo" Pagliasotti.
Whether intentional or not, Pagliasotti is growing a coaching tree as many who have played for and coached for and with him are 'branching' into coaching opportunities of their own.
Josh Collins is the going into his fourth season as the head volleyball coach at SWOSU and said words don't really express what Pagliasotti means to him.
"He got me started in coaching," Collins said. " But he's just taught me so much about what it means to be a man, more than anything."
Pagliasotti came to Southwestern to establish the program in 2005 and served as the head coach until 2011.
"When we came to Southwestern, it was because we were starting a program," Pagliasotti said. "That's what drew me to it. I really like the idea of starting it on my own and doing the things I wanted to do.
"And one of the things I liked was player development. I didn't necessarily take the best player in the gym. I took a player that I thought would work well with me and that I saw something in and that I could expand. And then we did the same thing with coaches."
The first two to gain experience and wisdom from Pagliasotti in 2005 were Collins and Justin Maness. Maness came with Pagliasotti when he came from Clarendon Junior College to SWOSU.
"He was my little brother's best friend and I had known him since he was in kindergarten," Pagliasotti said. "When I was at Clarendon, I came in and said I need someone that could help me that I could trust, somebody that I could work with because he's going to be pretty busy and I talked to Justin and he came out."
Maness didn't have his master's degree yet, but Coach Bo found a way to use him as a graduate assistant as he earned the degree at SWOSU.
"He came in and kind of set the standard for what I wanted in an assistant coach," Pagliasotti said. "Somebody that I could not only build kids with, but also that I had a really good relationship with, that knew me and I knew him.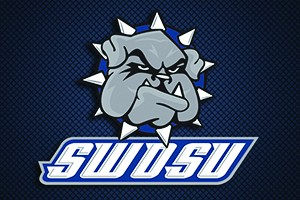 "It's kind of like with volleyball, the setter position is like your quarterback. That's your on-court captain. She has to know what you're thinking without you saying it. And that's what you need in an assistant coach. You need that person who knows what you're thinking, that this is what I mean, even if it's not exactly what I'm saying.
"That's what we've looked for every time we've looked for GAs . We've looked for somebody that we could build and help expand the game and someone that fit really well with us as a program."
Maness took the knowledge he gained from that first year and went to Paris Junior College (Texas) in 2006 to start the program there and he has remained at PJC ever since.
"I've known Coach Bo since we were kids, and he gave me the opportunity to coach," Maness said. "And I haven't known anybody with more character.
"One thing I've learned from him is that he is a man of self-discipline. He set his sights on something and he did it and was meticulous about it. It taught me a lot and I still use that today.
"Where I am today, I have to attribute a lot of that to him."
Pagliasotti has shown his ability to see things in others that they might not have yet seen in themselves.
"He got me started in coaching," Collins said. "I was a basketball player in college. We happened to be in the same junior college (Clarendon).
"While I was there, I had called lines for him a couple of times, but really that was the extent of my volleyball knowledge. Then I came to Southwestern and had the opportunity to be a student assistant basketball coach.
"We were starting the recruiting process and I told him that if he needed any help, and I was thinking about calling lines or things like that, then I would be available. That's when he asked me to be a student assistant. I was a student assistant volleyball coach in the fall and a student assistant basketball coach as soon as basketball rolled around. And that was when the mentoring started.
"Coach Bo just took me under his wing and just took care of me. He really showed me what it means to be a father and a coach and to be a husband and a coach. Now I'm getting to reap some of those rewards. I'm a husband, I'm not a father just yet, but I feel like I'm well-equipped just because Coach Bo showed me the ropes and showed me what that looks like the way that I think it should be done."
Another former athlete who Pagliasotti recruited to volleyball is current Oklahoma Baptist assistant coach, Jason Munoz. Again, it wasn't a volleyball star for whom Coach Bo made a way. Munoz was a football player.
"It was like Josh, he just liked to hang around and always had a volleyball in his hand," Pagliasotti said. "And Josh and I brought him in and said, 'Why don't you shag some balls for us,' and, 'Hey, why don't you hits some balls and do this and he ended up being a GA for us. And he turned into a great technician. And he loves it now."
Munoz was at SWOSU in 2007-2008 and headed to Shawnee to become an assistant coach there in 2009. He was named the NAIA Assistant Coach of the Year in 2012.
"Working with Coach Bo was great because he was always looking for ways to help us grow as coaches," Munoz said. "Everybody that was under him, he was always challenging and mentoring. He was always trying to direct us to think on a deeper level.
"He would give you responsibilities and then he would challenge you with those responsibilities. He always did a great job of mentoring us coaches.
"And he always opened up doors for you to pursue more. That's something that was really good and I owe a ton to coach Bo for all that he did for me."
But for Pagliasotti, the effects of bringing these coaches was reciprocal.
"Every one of the coaches we've brought in has brought something to us that we didn't already have and we learned something from every one of them," Pagliasotti said. "It's not about just filling a spot, it's about what can you bring to us and what can we learn from you.
"Every one of these people came in with a technical skill set that we could use or could get better at. Jason brought in a different sport and a different mindset of what to look at. And that was a big plus for us.
"Neither one of us (Pagliasotti and Collins) knew much about football, but he did. So it was like OK, how can we take the best aspects of football and incorporate them into volleyball? How can that make us better volleyball players?"
Coach Bo uses these technicians – those who have knowledge of any kind of technique or skill and master it.
And one of the techniques Pagliasotti himself has stands out to those he mentors.
"One thing that I really take from Bo a lot is that he always put his family first," Munoz said. "He's a very family-first oriented person and that's a big deal."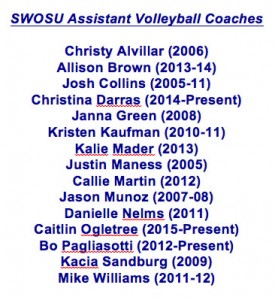 "He always put his family first and I think his players knew that and they appreciated that," Collins said. "And that later on down the line, they knew that their husbands should be treating them like that.
"I just think that's a very important part of what we do as coaches. I think that's the biggest thing that Coach Bo taught me."
There is so much more to what Pagliasotti does at Southwestern. He now oversee the Sports Management Master's Program at the school. And to do that, he had to give up the head coaching role. But he had put himself in a good position to make a unique change.
"At the time, I wanted to keep coaching," Pagliasotti said. "This is what I want to do so that's the way we were moving. And then we found out that the sports management program we have here, I was going to need to stay with it in order for it to flourish. So we had talked about things like associate head coach, but it didn't appeal to (athletic director) Todd (Thurman) or me.
"So I came up with what about this – Josh becomes the head coach and I become a volunteer assistant, because we're not going to get anyone else that cares as much for the program like me. And it's free. So that makes sense and its free so Todd was all about it.
"That allowed me to keep teaching and to keep coaching, which is what I really wanted to do. So I got to have everything.
Prior to the 2012 season, the two simply switched roles.
"The trick was that Josh would take this job," Pagliasotti said. "And I wasn't sure that he would do it and Todd wasn't sure he would do it. And I ended up convincing him to do it. And he was a little bit nervous about it, because he had never done it and now was going to be the head coach at Division II. And we were just coming into the new conference.
"But I said, 'This is the time to do it. You're ready and even if you're not, I'm going to be here to catch you if you fall.'
"I've been standing here and I haven't caught him yet because he hit the ground running and has done a really good job."
Two more assistants from Southwestern have taken head coaching positions heading into 2015.
Kalie Mader played for SWOSU in 2010 and 2011 and was an assistant in 2013. She takes the reins at Blinn Junior College (Texas), which has won back-to-back NJCAA national championships.
"I owe my career to Coach Bo and Coach Collins," Mader said. "They allow assistant coaches to bring something to the table which is rare, but it allows us (assistants) to really grow.
"Then you add the integrity and support they provide as people and it's an absolutely special experience."
Allison Brown was an assistant coach in 2013 and 2014, who is now the head coach at St. Gregory's in Shawnee.
Brown didn't play at SWOSU, but came for the sports management program, which put her in contact with Coach Bo.
"The whole reason I got into coaching was because I went to get my master's degree," Brown said. "I didn't really know what I wanted to do for my career. So I decided that getting an education as better than doing nothing.
"And I just fell in love with coaching while I was the graduate assistant there. Really, having Coach Bo being my advisor while he was also such a huge part of the SWOSU volleyball family meant the world to us."
Pagliasotti's coaching tree is growing each year, and a hallmark of this growth is the solid base of the tree.
"Everything I know about volleyball, I learned from Bo," Collins said. "He was patient and he was also very good about giving me as much as I wanted or as little as I wanted as far as responsibilities go.
"That's pretty remarkable considering I started in 2005 and that was my first glimpse at volleyball and so without him giving me ability, there's just no way that I would have been ready to be head coach when the opportunity came. And of course, when that opportunity came and Coach Bo decided to pursue his doctorate, he really fought for me to have this position.
"It's really been a trickle down effect."
It seems certain that as long as Pagliasotti is involved in some way with volleyball, a legacy of solid coaching will bloom from new branches on the tree.
* Doug Self contributed significantly to this story.