From SWOSU Sports Info.
Doug Self, Sports Information Director
For the second time this season, SWOSU junior outside hitter Carly Zak has been the Great American Conference Offensive Player of the Week. She shares this week's award, which was announced on Tuesday morning, with Northwestern Oklahoma State's Natalie Fahey.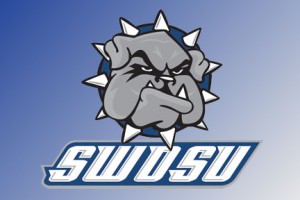 Zak led the Bulldogs to a perfect 4-0 record last week, extending the longest winning streak in school history to five games while also setting a new single-season school record for wins (16) and clinching the first winning record in program history. She had totals of 46 kills, 40 digs, 10 blocks and four service aces for the week while hitting .343 with just 11 hitting errors in 102 swings. In the two Great American Conference matches, Zak recorded double-doubles, giving her 12 for the year.
Her best performance of the week came in the Bulldogs biggest match on Friday night against Ouachita Baptist, a team they were tied with in the conference standings coming into the game. Zak set a new season-high with 20 kills against the Tigers and she hit .302 with four hitting errors. Her versatility was on full display as she added 14 digs and a career-high seven blocks (one solo, six assist) while playing against GAC's top-hitting team statistically. During the fifth set of the come-from-behind victory, Zak put down the 1,000th kill of her career, moving into second place on the SWOSU all-time list. She enters this week with 1,022 career kills, needing 15 more to break the eight-year old school record of 1,036 kills held by Kasandra Gurtner (2005-07).
Zak picks up the second GAC Weekly award of the season, joining teammate Kayla Hebert, a two-time Setter of the Week honoree this season. The four weekly awards won by the Bulldogs this season is also a new program-best since the formation of the Great American Conference in 2011.
The Bulldogs bring an overall record of 16-8 into the week and they are tied for third in the GAC standings at 8-3 with five league games remaining. SWOSU puts their five-game winning streak on the line on Thursday evening, facing Southeastern Oklahoma State at 7:00 pm inside the Pioneer Cellular Event Center.