No. 7
Northeastern State's game against Harding was one for the ages. The teams combined for 90 points and over 1,200 yards of total offense.  The game was decided on the last play, on which 10-point swing occurred.  And the Riverhawks' win would put them back above .500 for the first time in a month and a half.
And while NSU was a big winner on the day, senior wide receiver Trey McVay definitely put his mark on the contest and posted record setting numbers.  He had 425 receiving yards, a record for all divisions of the NCAA.  McVay also accounted for all six of the Riverhawks' offensive touchdowns, another school record, as was his 16 receptions.
Quarterback Johnny Deaton also had a school record by putting up 572 yards of total offense.
Northeastern looked as though it had the game in hand when Deaton connected with McVay for a TD for the sixth time on the afternoon, giving the Riverhawks a 43-21 lead early in the fourth quarter.  But Harding would not go away that easily.
The Bisons scored immediately after with an 89-yard TD pass on the next play from scrimmage.  Harding then held NSU on downs twice on the Riverhawks' next two possessions and scored when the Bisons got the ball back.  The score was 43-41 after just six minutes more of game time had elapsed.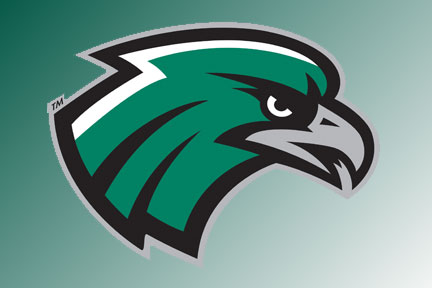 Northeastern State fumbled on its next possession and Harding was driving for the potential game-winning field goal.  But as time expired, Eddy Carmona's FG attempt was blocked by NSU's Chris Myers, who also scooped up the ball and returned it 72 yards for a touchdown.