Cameron took down Angelo State, 80-69, on Saturday afternoon and the Aggies, who were 1-6 to open the year, are starting to make some noise.
They now are tied atop the Lone Star Conference with West Texas A&M at 6-1 in league play.
The win over ASU this weekend marked the fifth straight and the team is now two games above .500 at 9-7 overall.
Aggie coach Tom Webb said he's glad for any league win and doesn't take any team for granted.  Angelo State is 0-7 in the LSC, but the coach said he knew his team was in for a fight.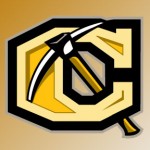 "Angelo State is really talented," Webb said. "They're scary – I don't exactly what the scoop is. But the kid from Texas Tech is good. The two post kids killed us inside.
"Anytime you can go on the road and win a conference game, it's good."
The Aggies lost their first four games back in November before grabbing a big upset win over then-No. 8 Harding on a neutral court in Canyon, Texas.
Webb talked about the journey his team has taken to get to this point and its unexpected turns.
"We had a lot of things early in the year," Webb said. "We had the 20th toughest preseason schedule in the nation. And then we lost two probable starters – a four and a five. One got pregnant and the other one hurt her knee.
"And so we went from being what we thought was a deep team and an athletic team to being really tiny and really small and trying to figure it out really fast.
"They got thrown to the wolves. And I probably didn't do a good job early. We're just trying to start to figure it out a bit. Little by little."
After two more losses, CU put together a couple of victories against in-state rivals, Southeastern and Northwestern, starting with a big rallying win in Durant.  Webb assented to the idea this may have been a point in which his team started to think it could win this year.
"And the scenario is a little thicker than that," Webb said. "At Southeastern, we were down five with 14 seconds left. To come back and win that game (82-81) and just to believe you can win it and to have the mental toughness to compete to the final bell, those things I think taught our kids a lot.
"They started to really enjoy each other and to understand that if we just play hard each night, we've got a chance. And those games are fun."
His team has another 'fun' game ahead on the schedule with Midwestern State coming to Aggie Gym for the first game of a three-game home stand.  Webb said he is looking forward to it.
"They (MSU) are very talented. They're picked to win the league. They get up and down. They're going to press and fly around.
"It's a situation, I think, that will be really good and fun for us. The nice thing is that we've put ourselves in a good spot and now where we move from here, you've just got to go one game at a time. I always think it's fun to play the teams that are picked first to see where you stand."
Cameron is second in the LSC in scoring at 71.0 points per game and has two of the top five scorers individually.  Jazzmine Robinson is leading the way in the conference with 17.9 ppg and Brandi Leal is fifth and drained six three-pointers in each of the last two outings.
The Aggie defense has stepped up in the five-game winning streak, holding opponents to 64.2 ppg during that stretch.
Robinson is also fourth in the league in rebounding (8.2 avg.) and she and Charron Montgomery are each dishing out at least three assists per game.
But Webb said the key to this team right now goes even deeper.
"Our bench. We're a team. They're a family – they love one another.
"Our bench, it might be someone different every night. On Saturday, Bri Underwood came in. And I don't think she scored, but she might have given us the best minutes of the night. She had two huge rebounds and two huge defensive stops.
Noelle Kindred comes in and presses the ball and she turns it. She had a big steal.
"So we just have some kids off the bench who believe in their role and everyone just enjoys it and fights for their minutes. And when they get it, they make the most of it."
The team is looking like a team in mid-season form at the right time – midway through the season.
The Aggies host the Midwestern State on Saturday, Jan. 31, at 2 p.m.