OKLAHOMA CITY – The Lady Volunteers were the first team to see their Women's College World Series dreams come to a crashing halt as Auburn bounced Tennessee from the tournament in the first elimination game on Saturday morning at ASA Hall of Fame Stadium. A four-run third inning for the Tigers proved the difference as Auburn took the game 4-2.
Through the first two innings, both teams failed to capitalize on runners in scoring position. With Auburn facing two outs, it looked like Tennessee would escape the third unscathed, but Haley Fagan had other plans as she singled to third, scoring Kasey Cooper in the process. Carlee Wallace then proceeded to produce a two RBI double to right center before Jade Rhodes capped off the two-out rally with an RBI double down the left field line.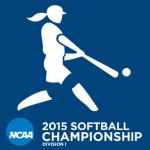 A solid defensive display by the Tigers in the fifth killed a likely two-out rally before it ever truly got started. Despite letting one run in off a Cheyanne Tarango single to right field, the introduction of Rachael Walters to the affairs dispelled any lingering threat. The junior left-handed pitcher came on in relief of Lexi Davis, and needed to face just one batter to get out of the jam, forcing a fly out to Tiffany Howard in left field.
Davis picked up her 25th win of the season, giving up two runs on nine hits to go along with one strikeout in 4.2 innings of work. Walters picked up her fourth save of the season, striking out five, including three in the bottom of the seventh.
Wallace led the Tigers at the plate, batting 1.000 with a single, a double and two RBI, while also reaching base a third time on a walk. Fagan was the only other Tiger to record a multi-hit game, while the Tigers tallied seven hits total.
Auburn (55-10) survives and advances in the WCWS to play against UCLA (51-11) on Saturday night at 7 pm for a chance to take on top-seeded Florida (57-6) on Sunday afternoon. Tennessee ends its season at 47-17 overall.