OKLAHOMA CITY – The eye of the Tiger blinked first in a defensive struggle between Louisiana State and Florida in their Women's College World Series matchup on Friday night at ASA Hall of Fame Stadium. Following four scoreless innings by both teams, the Gators found a breakthrough in the top of the fifth courtesy of a two-run home run by Lauren Haeger, and never looked back, taking the game 4-0 in the winners' bracket game.
Despite each team loading the bases in the first frame of action neither team was able find a run. An excellent defensive play by Florida's shortstop, Kathlyn Medina, created a double play that wiped a would-be run for the Tigers off the board after she tagged out Bianka Bell before her throwing out Kellsi Kloss at first.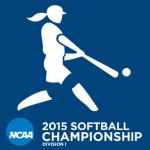 Through four innings, the disparity in pitching was apparent as Haeger threw just 47 pitches to Lauren Hoover's 81. That imbalance came into play in the fifth inning as Haeger stepped up to the plate with Nicole DeWitt on first. The senior slugger collected her 17th home run of the season, giving the Gators the lead 2-0.
DeWitt would find her way home again in the fifth inning after sending a solo shot over the right centerfield fence. The freshman's first career WCWS home run was enough to retire Hoover, who finished with 119 pitches in 5.2 innings of action, in favor of Kelsee Selman. The Gators tacked on an additional insurance run in the seventh after a throwing error by Kloss brought in Kirsti Merritt.
Haeger went the distance in the circle for Florida, throwing an efficient 79-pitch game with four strikeouts while giving up just five hits. Aubree Munro reached base three times for the Gators, going 2-3 at the plate with a double, a single and a walk. Florida doubled LSU's hit total, with three players recording multi-hit games.
The top-seeded Gators will play Sunday at 1 pm against the winner of tomorrow's losers bracket matchup between LSU and the winner of Tennessee/Auburn on Saturday at noon.