OKLAHOMA CITY, Okla. – Lauren Haeger batted in all three of Florida's runs as the Gators took Game 1 of the Women's College World Series Finals 3-2. Despite a promising late-game rally by Michigan, the Gators were able to slam the door shut on the Wolverines, and are now just one win away from winning back-to-back NCAA Division I National Championships.
Florida struck quickly, utilizing a towering two-run shot over the left field fence by Haeger to take the lead in the bottom of the first that also scored Stewart. Haeger followed that up by hitting in what would prove to be the game-winning run in the bottom of the third. The designated player hit an RBI single to centerfield that was able to score Nicole DeWitt who had earlier reached base on a single.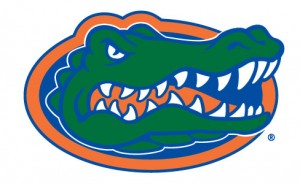 Michigan thought they had found the beginning of an answer in the top of the sixth through Abby Ramirez. The ninth batter for the Wolverines singled up the middle on the first pitch she saw while facing two outs, scoring Kelsey Susalla and Nikki Ward in the process. Sierra Lawrence flew out to left to end the inning.
Delanie Gourley entered the game in relief of Aleshia Ocasio in the top of the seventh, looking to secure the victory for Florida. With Sierra Romero threatening to score at third with one out, the sophomore lefty forced two ground outs to end the inning and give Florida a 1-0 series lead.
Ocasio picked up the win, her 18th of the season, in the circle. She threw 6.0 innings, giving up two runs off of five hits while also striking out three batters. Michigan's Megan Betsa took just her fifth loss of the season after seeing 2.2 innings of action.
Haeger, relieved of pitching duties for the first time in the WCWS, responded by turning in a 2-3 performance at the plate with a run, three RBI, two extra base hits and a home run. Kelly Christner was the only Wolverine to recorded a multi-hit game, going 2-4 at the plate.
Game 2 of the WCWS Finals will take place Tuesday night at 7 pm at ASA Hall of Fame Stadium. The Wolverines will need a win to force a Wednesday night Game 3. If Florida wins, they will earn their second National Championship in as many years.