NORTHWESTERN RANGERS
Head coach: Matt Walter, first season
2014 record (3-7)
The Northwestern football team has seen its share of struggles in recent years, but with encouraging finishes at the ends of the seasons, the Rangers have given fans hope for the next year. But those fans have been still waiting for that hope to be realized.
Last year, the Rangers won the final two games of the year and in 2012, they won the final four. But NWOSU has gotten off to slow starts. The program has only two wins in the month of September in the last five years and none since 2011.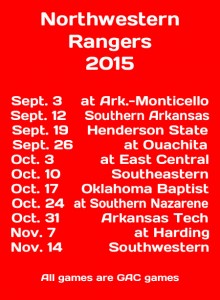 New head coach Matt Walter is looking to get things off to a faster start this season. But he said he is doing so with perspective.
"Absolutely, it's important to get started fast, but at the same time, in Year One it's hard to focus on just the wins," Walter said. "We want to focus on unit goals and the process of making a team better and doing things the right way and changing the culture.
"It's hard to say that as a competitor and a coach, that we're not going to focus on the wins and losses. But the wins are going to come once we accomplish the improvement and the goals we've set."
OFFENSE
Two quarterbacks stood out in the spring for the Rangers and each saw action in six games last year – junior Reed Miller, who was fourth on the team in rushing last year, and sophomore Ty Hooper, from Alva, who passed for a team high five touchdowns. The ground game wasn't very successful in 2014, but two of the top three rushers are back to give it another shot in Zachary Doyle and Jarion Tudman. Justin Schanbacher is listed as a tight end, but expect to see the senior factor into the offense in multiple ways. Tamarick Courtney led the team with 30 receptions in '14 and is back for his sophomore year. Three-year starter Austin Maly will be back at center to anchor a young offensive line.
Walter will serve also as the offensive coordinator.
DEFENSE
The defensive line is bookended by two solid juniors who combined for 12 sacks last year – Theodis Williams (6-foot-6, 230) and Joby Saint Fleur (6-foot-5, 245). Devin Peyton and Brandon Cannon will be stepping up of solid defensive performances from a year ago and try to fill the gap left by the graduation of Alex Hemberger. Senior Derrick Thompson adds to the linebacker mix. Walter believes Jordan Norris to be a lockdown corner in the secondary and fellow juniors Reggie Winfield and Caden Gacek look to factor in as well. Dan Lemke will be in his second season as defensive coordinator for the Rangers.
OUTLOOK
The Rangers were eighth in the GAC last season in points per game (18.1) and 10th in points given up (41.8) and there is plenty of room for improvement on both sides of the ball. But stability could be a key.
Last season, head coach Alan Hall stepped down midway through the year due to health reasons. Kevin Turco moved up from offensive coordinator to fill the position on an interim basis for the final three games. Injuries at the quarterback position through the year didn't help either. A consistently healthy backfield would go a long way for this team.
"It's kind of wide open for us right now, but that to be expected with a new staff and a bunch of new players in a new program and a new way of doing things," Walter said.
There are winnable games at the outset and to close this season for the NWOSU. The Rangers took down Southwestern in Weatherford last year and have them at home to close out the schedule.
Northwestern was picked to finish 10th in the GAC coaches' poll. Considering a season at around .500 seems possible for this team in 2015.