BOKCHITO – Each game had a different feel, but each was exciting and each had the same end result. A Rock Creek victory.
The Rock Creek Lady Mustangs upset Class 2A No. 20 Caddo, 54-51, and the 2A 11th-ranked Mustangs took care of business at home, defeating the Bruins, 64-54.
GIRLS
Rock Creek senior Michaela Stinson rolled her ankle with less than a minute remaining in the contest and was somewhat hobbled for the final play. Fortunately for her, she didn't have to move much to do her part.
With the game tied at 51-apiece, the Lady Mustangs (10-2) had the ball to run one final play in regulation. They ran a play at the top of the key and then Jordan Nelson found an open Stinson behind the arc on the right side, who drained a three-pointer with five seconds left to put her team on top for good.
Stinson had a game-high 25 points on the night.
"The girls worked hard, played tough and never gave up," Rock Creek coach Wade Johnson said.
The game went back and forth all evening, but neither team could take advantage of small leads and break away. It really came down to which team had the ball last, and on Friday night that was Rock Creek.
Caddo (7-3) had three players in double figures scoring, led by junior Kacie Clower with 14. Alli Adair scored 13 and Brittney Miller had 12.
The Lady Mustangs extend their winning streak to six.
CHS    7   18  15  11   51
RCHS   14  12  18  10   54
Caddo (7-3) – Kacie Clower 14, Alli Adair 13, Brittney Miller 12, Kynsey Dixon 6, Tanna Hightower 6.
Rock Creek (10-2) – Michaela Stinson 25, Lainey Jestis 9, Hannah Heflin 8, Brittany Farrington 4, Teronie McCann 4, Macy Converse, 2, Jordan Nelson 2.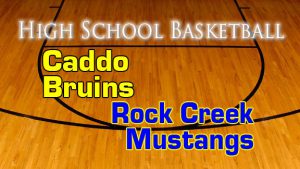 BOYS
Davis Rogers had a huge part of his team's 23-point third quarter and helped Rock Creek pull away from Caddo in the period.
The senior drained three treys in three shots in the third and the Mustangs built a 12-point advantage going into the fourth and held the Bruins at bay for the win. Rock Creek came out of the intermission and outscored Caddo 23-11 in the quarter to break away from the 30-30 tie at the half.
Rogers had 14 points in the game. Fellow senior Shacona Vandenberg led the way for the Mustangs with a game-high 23, scoring in all four quarters and was a big presence on defense as well.
The turning point in the game came just before the half. Trailing 30-28 with 1.4 seconds left in the second quarter, RC junior Sam Roper missed the second of two free throws, but chased the rebound and tipped it to teammate Karson Dry, who quickly put it in for the score as the buzzer sounded. Rock Creek carried that momentum through the break and into the second half.
Rock Creek's boys' team also take a six-game winning streak into Christmas Break. Head coach Rob Frederick said his is proud of the way his team has played in the first semester.
"They have done a great job and worked really hard," Frederick said. "They've played well against a lot of tough teams, like tonight as Caddo is one of those tough teams.
"We'll see how it goes. We need to play well after Christmas and we come right back with the Kingston New Year's Classic and there are a lot of really good teams in that, too."
Senior Daniel Stone led the way for Caddo (7-3) with 14 points. Kaden Johnson had 13.
CHS    19  11  11  13   54
RCHS   15  15  23  11   64
Caddo (7-3) – Daniel Stone 14, Kaden Johnson 13, Garrett McMichael 11, Gage McMichael 8, Lance Minyard 5, K.W. Adair 3.
Rock Creek (11-1) – Shacona Vandenberg 23, Davis Rogers 14, Darian James 8, Karson Dry 6, Christian McGowen 5, Austin Green 4, Brock Allen 2, Sam Roper 2.