Seattle scored almost twice as many points as it did the last time it played Tulsa, but it still wasn't enough.
Riquna Williams hit the game-winning jumper with 10 seconds left and the Shock (8-1) rallied at home to beat the Storm, 93-89. Tulsa has won all five games it has played this season in the BOK Center.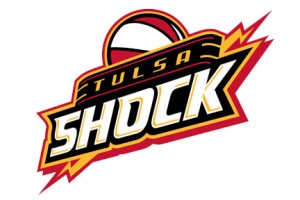 The win is the eighth in a row for the Shock and that matches a franchise record, set by the program in June of 2003 when it was still in Detroit.
They opened that season with an 8-1 record, also.
It was a different game than the last time these two teams met in Tulsa. Tulsa held Seattle (2-7) to shooting just 24 percent from the field on June 9. The Storm made 51 percent of its shots on Sunday and were one point short of doubling the 45 points it managed nearly three weeks prior.
Tulsa head coach Fred Williams said he expected this game to be closer than the previous one. But that doesn't make it less stressful.
"Close is scary," Williams said. "You know, you want to have close games, but you'd like them to be on your side of things. You want to make it exciting for the fans, too.
"I know that for us, you know, we can't blow teams out anymore because the way it happens is that teams know a lot of plays that you run now, and you see a lot more close games. That's in the books all the way around the league."
Williams also talked about how his team has grown.
"Close games are good but it's also a learning experience, too, for both teams. We learned a lot from that last year, and it's carried over this year to give us some wins."
Skylar Diggins had a season-high 31 points to lead all scorers and 21 of those points came in the first half.
She defected the attention of her scoring output to talk about the overall effort.
"It's all about team, right we are playing like a team, in these tough, tough games, where we had to face a lot of adversity, I think it's going to help us in the long run," Diggins said.
"And for us to be able to finish these games, we had three games, other than this one, where it could have gone either way, and we kind of locked down in the fourth quarter and focused."
That first half went back and forth and Seattle looking to break away a number of times, leading by seven midway through the first quarter. But big three-pointers by Diggins and Williams kept the Shock close.
Seattle went up by eight, 33-25, in the second quarter, but a 7-0 run highlighted by a big three-pointer by Amanda Zahui B put Tulsa close again.
After trading baskets, Diggins went scored the final 11 points for the Shock in the half as Tulsa went to the break up 45-42.
Seattle scored 33 points in the third quarter and was up six going into the final frame. But again the Shock rallied.
Tulsa scored seven points to open the final period and take a 76-75 lead.
Later in the fourth quarter, former Shock member Angel Goodrich hit the second of her two three-pointers, untying the game and putting the Storm on top 83-80. Free throws by the Shock knotted it back up at 83 apiece.
For Goodrich, it was her first time back in Tulsa since being released from the team in the preseason. The former Sequoyah-Tahlequah product was seeing action on the court for the first time this season.
"It did feel good," Goodrich said. "I mean, it's like coach keeps telling us it's a work in progress, it's not what our result is, it's about growing and learning each and every game."
Seattle made its final push and with baskets by Ramu Tokashiki and Crystal Langhorne put the Storm on top 87-83. But three free throws by Diggins and a three-pointer from Karima Christmas pushed Tulsa back into the lead, 89-87.
Tokashiki, who had a team-high 21 points for Seattle, made a layup with 32 seconds left to tie the game one more time and set the stage for Williams' game-winner.
Williams and Plenette Pierson each scored 19.
Both Courtney Paris and Christmas pulled down nine rebounds. Paris scored eight to go with them and Christmas put in seven points.
Diggins had six assists on the night as well.
Tulsa will go for a record ninth straight win on the road at Seattle on Tuesday night. Tip time is set for 9 p.m. CDT at Key Arena.