The Tulsa Shock now own a five-game winning streak and a share of the best record in the WNBA. And they have gotten to this point in what is still a young season by executing on both sides of the ball.
The Shock is making strides this season in After his team's second win over San Antonio in three days, Shock head coach Fred Williams said the team "has really settled down defensively."  It has shown during the streak.
Tulsa gave up 93 points to the Chicago Sky, the league's highest scoring team, in the home opening win on June 6.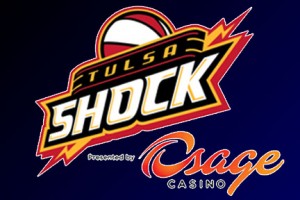 This was also the game in which starting guard Odyssey Sims went down with a knee injury. And although they look forward to her return, the Shock have made the necessary adjustments to fill the gap and these have manifested in solid defensive efforts.
Tulsa has held its opponents to shooting 40.9 percent from the field for the season, and to just 34.1 percent since Sims' injury.
The defensive is impressive, but the Shock have been putting up points as well.
Tulsa is second in the league in scoring at 81.8 ppg, behind an 84.8 ppg average by Chicago. But the Shock are using that defense to keep the ball on the offensive end and are taking and making shots.
Tulsa is connecting on a league leading 39.6 percent of its three point shots and 41.2 percent of its shots overall (fourth in the league). The Shock also have two of the WNBA's top seven scorers in Plenette Pierson (16.3 ppg – fifth) and Skylar Diggins (15.7 ppg – seventh).
And ball control is key as well.
Tulsa is tops in rebounding at 41.2 boards per contest. The Shock also give themselves more than one opportunity at their end, bringing in a league-leading 14.5 offensive rebounds.
Courtney Paris is again largely responsible for that this season, individually at the top of both of those categories (12.7 rebounds and 4.3 offensive rebounds per game).
The Shock also move the ball around well and are tied for second with 16.7 assists per contest.
Tulsa will get a chance to extend its streak and another chance to really see where it stands in a Father's Day matchup with the Minnesota Lynx.
The Lynx handed the Shock its only loss of the season so far back in the opener. Minnesota won 83-75 in the Target Center on June 5. Both teams are 5-1 and a win on Sunday could mean a lot in playoff seeding when that time gets here.
Tulsa is likely not looking that far ahead yet. So far this season, the team has taken each game as it comes.
And it's been working.