Tulsa used a balanced attack to hold off New York on Friday night and pushed its winning streak to seven.
Nine players scored between seven and 11 points and the Tulsa Shock beat the New York Liberty, 71-62, and are now 7-1 on the season.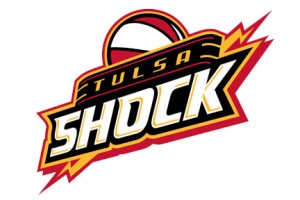 The winning streak is the longest since 2007. The longest in franchise history came in 2003, the Shock won eight in Detroit.
Riquna Williams was the only Shock player in double figures with 11. Plenette Pierson and Skylar Diggins each had nine points. Karima Christmas and Vicki Baugh scored eight apiece.
It was yet another win for the Shock that played out differently than the one before. But Shock coach Fred Williams said it is a good thing to be able to win in all types of situations.
"That's important to do because in order to get through a season you got to get through those scenarios," Williams said.
"Being in games in which you have leads and pull them out…being in tight games and pulling them out.  I call them the show-down games.  Which is tonight, when we had to pull it out.
"We have players that are very resilient and just want to play hard, and play well for the Shock."
Tulsa never trailed in its return to the BOK Center. New York (4-4) tied the contest three times in the second quarter, but couldn't gain an advantage.
The Liberty outshot the Shock and connected on 42 percent from the field. But it was solid defense by the Shock leading to 26 turnovers by the Liberty that was a big factor.
Sugar Rodgers had a game-high 12 points for New York.
On Sunday, Tulsa hosts the Seattle Storm (2-5) with a chance to match the franchise's longest win streak. The Shock won an earlier matchup, 68-45, on June 9.
Tip time is scheduled for 6 p.m.