By Doug Self
WOODWARD, Okla. – The culminating event of the week lived up to the billing as the West All-Stars scored on an acrobatic touchdown grab by Nathan Knitig (Texhoma) with 7:28 to play for a 21-14 victory in Classic Bowl XXVII, presented by K101 on Saturday night at Boomer Stadium.
The West team built a 14-0 lead midway through the first half and never trailed in the game, but they found themselves tied with the East after the first play of the fourth quarter as Tanner Bowman (Cherokee) launched a 43-yard halfback touchdown pass to Chezden Nease (Thomas). TJ Krittenbrink (Pond Creek-Hunter) dove in for the two-point conversion, tying the game at 14-14 with 11:50 to play.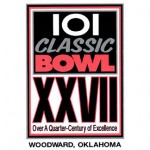 Tanner Allen (Laverne) engineered an eight play, 72-yard drive to regain the lead for the West squad, capping it off with the go-ahead score on a third down throw that Knitig tipped to himself before hauling it in with one hand at the goal line over a defender. Knitig finished the game with two catches – both touchdowns – totaling 80 yards as he earned Team MVP honors for his West squad.
It was Allen who got the West on the board, plunging in from three yards out on the final play of the first quarter, putting the West up 7-0 after Jake Test (Texhoma) booted in the extra point. Knitig's first touchdown grab, a 53-yarder from Test, made it 14-0 with 7:21 to play in the opening half, but it did not take long for the East to respond.
Jose Sanchez (Hennessey) took the ensuing kickoff and faked a reverse to Bowman, deceiving the West kickoff squad enough for Sanchez to find paydirt after making several moves during a 95-yard return. The East would go for two, but their conversion fell short and they headed to halftime trailing 14-6.
Neither team scored in the third quarter, but the East started a long drive late in the frame that was capped off with Bowman's TD pass to Nease to begin the final period. With the score tied, the West used their running game to get in position to regain the lead, keeping the ball on the ground for the first six plays of the ensuing drive as they moved into East territory. Allen found Mason McCormick (Weatherford) for a 10-yard completion before tossing the deciding touchdown to Knitig on the following play.
Test led the West with a game-high 71 yards rushing while also throwing for 76 yards and one touchdown, helping the West hold an advantage of 296-to-218 yards of total offense. Taggart Brown (Chisholm) and Docker Haub (Kingfisher) led the East with a combined 73 yards rushing, while Bradyn Shepherd (Kingfisher) had a team-high three receptions for 35 yards.
Hadley Skaggs (Beaver) had a team-best seven stops for the West defense while Caden Wyer (Clinton) added five tackles, one sack and three tackles for loss. Devon Comstock (Woodward) had two tackles, one sack and a 48-yard interception return in the first half.
Krittenbrink led the East defense and earned Team MVP honors with 11 tackles (four solo, seven assist), including two tackles for loss while also rushing in the game-tying conversion in the fourth quarter. His teammates Jacob Eischen (Fairview) and Conley Adams (Mooreland) each added six stops apiece with Nease and Lane Reazin (Woodward) both recording interceptions in the effort.
Score  1          2          3          4          Score
West    7          7          0          7          21
East     0          6          0          8          14
Scoring Summary:
1st       00:01   WEST Tanner Allen 3 yd run (Jake Test kick), 12-37 6:01, WEST 7 – EAST 0
2nd      07:21   WEST Nathan Knitig 53 yd pass from Jake Test (Jake Test kick), 6-73 3:38, WEST 14 – EAST 0
            07:08   EAST  Jose Sanchez 95 yd kickoff return (Noah Gregory rush failed), , WEST 14 – EAST 6
4th       11:50   EAST  Chezden Nease 43 yd pass from Tanner Bowman (TJ Krittenbrink rush), 7-54 5:49, WEST 14 – EAST 14
            07:28   WEST Nathan Knitig 27 yd pass from Tanner Allen (Jake Test kick), 8-72 4:15, WEST 21 – EAST 14
Final Stats:
RUSHING:
West-Jake Test 15-71; Hadley Skaggs 7-53; Tanner Allen 6-20
East-Taggart Brown 3-41; Docker Haub 8-32; Tony Mendoza 8-16
PASSING:
West-Tanner Allen 4-8-1-65; Jake Test 4-6-1-76.
East-Taggart Brown 6-10-1-60; Tanner Bowman 1-1-0-43.
RECEIVING:
West-Nathan Knitig 2-80; Dalton Birch 2-22; Moises Garay 1-25
East-Bradyn Shepherd 3-35; Chezden Nease 2-43; Jose Sanchez 2-19
INTERCEPTIONS:
West-Devon Comstock 1-48.
East-Chezden Nease 1-0; Lane Reazin 1-0.
TACKLES (UA-A):
West-Hadley Skaggs 6-1; Christian Desantiago 4-2; Caden Wyer 4-1; Nick Finke 3-0; Jonathan Hernandez 1-2
East-TJ Krittenbrink 4-7; Jacob Eischen 3-3; Conley Adams 1-5; Lane Reazin 4-1; Caleb Pate 4-1; Dakota Knabe 2-3; Wendell Prim 1-3