The final post in the Top 10 series for 2016 is much like the penultimate one for the No. 2 spot.
The game played itself into a dream scenario.
National championship. Overtime. Down by one. Four seconds to go.
And Mid-America's Malcolm Mann made those four seconds count.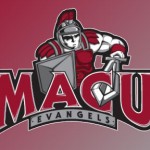 After a timeout, the junior took the ball the length of the court and made a running jumper from outside the lane.
He very nearly lost the ball just before the shot, but got it back and had the presence of mind to put it up and off the glass. It hit the backboard, the front of the rim, the back of the rim twice and hung in the air what must have seemed like eternity to MACU fans before falling in.
The buzzer-beating shot gave MACU an incredible 100-99 overtime win over No. 1 ranked and top-seeded Georgetown (Ky.) and secured the first NAIA Men's Basketball Championship for the program.
Mann had 23 points on the night, seven of them coming in the extra period.
Devonse Reed had a game-high 25 points and was named the Tournament MVP, while first-year coach Josh Gamblin took home the honor of Coach of the Year.
Mann's 'drive for the championship' is the stuff dreams are made of. And in 2016, the dream came true.
Top 10 of 2016 – No. 10: Miller rides into Rangers' record books
Top 10 of 2016 – No. 9: Garcia dominates D-II discus world
Top 10 of 2016 – No. 8: OCU softball rolls to ninth national title
Top 10 of 2016 – No. 7: Hillcats take Heartland title
Top 10 of 2016 – No. 6: Wortham scores six – six times – on the way to the top
Top 10 of 2016 – No. 5: Sooners sweep gymnastics titles
Top 10 of 2016 – No. 4: Moon shines on perfect night
Top 10 of 2016 – No. 3: OCU earns three national championships in Daytona
Top 10 of 2016 – No. 2: Heath's walk-off grand slam give OBU a national title
Video courtesy NAIA.