It is simply the dream scenario.
Bottom of the ninth. Two outs. Bases loaded.
You step to plate with the game on the line. A national championship is on the line.
Oklahoma Baptist outfielder Hunter Heath got to experience this scenario in real life. And his at-bat is one that will resonate in OBU baseball lore for, well, likely forever.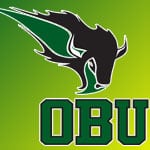 With teammates Kyle Abblitt, Austin Cooper (pinch running for Cody Ziegler) and Dustin Cook on board, and the score tied at 4-apiece, Heath took the first pitch, a curve ball, over the right center fence.
A walked his team off into glory.
The 8-4 win secured the NCCAA national title for the Bison.
It is even more special for the program in that it is the first national championship for legendary Hall of Fame coach Bobby Cox. Cox now has 1,260 wins in 32 years at the helm. His teams have never had a losing season.
And now there is a national championship to go with all of that. A championship that came on a walk-off grand slam.
Heath was named the tournament's Most Outstanding Player, with 12 RBI through six games and an .840 slugging percentage.
And a scenario that is no longer just a dream. It's a memory.
Top 10 of 2016 – No. 10: Miller rides into Rangers' record books
Top 10 of 2016 – No. 9: Garcia dominates D-II discus world
Top 10 of 2016 – No. 8: OCU softball rolls to ninth national title
Top 10 of 2016 – No. 7: Hillcats take Heartland title
Top 10 of 2016 – No. 6: Wortham scores six – six times – on the way to the top
Top 10 of 2016 – No. 5: Sooners sweep gymnastics titles
Top 10 of 2016 – No. 4: Moon shines on perfect night
Top 10 of 2016 – No. 3: OCU earns three national championships in Daytona
Top 10 of 2016 – No. 1: Big Mann on Campus