We begin this year's Top 10 countdown with the fans' choice to make the list: the incredible season culminating the career of Reid Miller at Northwestern.
The senior now tops the lists of many records for the football program in Alva.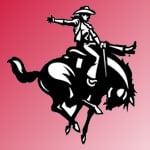 The All-OSN Offensive Player of the Year was 231-of 419 passing (55.1 percent) for 3,221 yards and 35 touchdowns. He led the Great American Conference is passing yards and was eighth in Division II in the category.
With the 35 passing TDs, Miller finished his Ranger career as the all-time leader with 73 total. He also owns season records in passing touchdowns, passing yards, passing yards per game, completions and attempts.
Twice in 2016, Miller threw five touchdowns passes while throwing no interceptions, in wins over East Central and Southern Nazarene.
He was also responsible for seven touchdowns twice as well in '16. Miller broke his own school record with seven TD passes in the season-opening win over Arkansas-Monticello and then threw six more and rushed for one in the Rangers' victory over Oklahoma Baptist.
Top 10 of 2016 – No. 9: Garcia dominated D-II discus world
Top 10 of 2016 – No. 8: OCU softball rolls to ninth national title
Top 10 of 2016 – No. 7: Hillcats take Heartland title
Top 10 of 2016 – No. 6: Wortham scores six – six times – on the way to the top
Top 10 of 2016 – No. 5: Sooners sweep gymnastics titles
Top 10 of 2016 – No. 4: Moon shines on perfect night
Top 10 of 2016 – No. 3: OCU earns three national championships in Daytona
Top 10 of 2016 – No. 2: Heath's walk-off grand slam gives OBU a national title
Top 10 of 2016 – No. 1: Big Mann on Campus