The Stars shined brightly on the diamond again in 2016.
The Oklahoma City softball team accumulated 67 wins on the season (67-3) and brought home the ninth national championship for the program.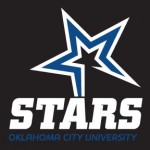 Along the way, coach Phil McSpadden picked up his 1,500th win in his 29th year at the helm at OCU.
Oklahoma City had a program-record seven NAIA All-Americans (Madison Ellis, Kyndra Holasek, Abby Meador, Leslie Miller, Kali Pugh, Jaci Smith and Georgia Wall) and led the country in hits (749), runs scored (568), RBIs (491) and team ERA (.086).
The Stars were led by Wall, a freshman, who earned the honor of World Series MVP and had an ERA of .047 for the season. Wall went 28-1 on the year. Her one loss was to St. Xavier (Ill.) in the NAIA World Series and was vindicated by back-to-back seven inning shutout wins over SXU in the championship games.
Top 10 of 2016 – No. 10: Miller rides into Rangers' record books
Top 10 of 2016 – No. 9: Garcia dominates D-II discus world
Top 10 of 2016 – No. 7: Hillcats take Heartland title
Top 10 of 2016 – No. 6: Wortham scores six – six times – on the way to the top
Top 10 of 2016 – No. 5: Sooners sweep gymnastics titles
Top 10 of 2016 – No. 4: Moon shines on perfect night
Top 10 of 2016 – No. 3: OCU earns three national championships in Daytona
Top 10 of 2016 – No. 2: Heath's walk-off grand slam gives OBU a national title
Top 10 of 2016 – No. 1: Big Mann on Campus