Not one. Not two. Not three. Not four. Not five…
In 2016, Southeastern running back Devlon Wortham was on his way to becoming the all-time leader in rushing yards for the program.
But as the Savage Storm hosted Northwestern in October, Wortham rushed his way into the record books in more than one category.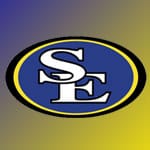 The senior carried the ball 20 times for 195 yards in a 55-34 victory and crossed the 3,000-yard mark for his career. He surpassed Earnest Hunter at the top of the rushing yards list in the Storm record book.
And he just kept finding his way into the end zone. In fact, he found it six times on the afternoon.
Wortham recorded six rushing touchdowns, which was tops in D-II in 2016 and broke a 95-year-old rushing TD record set against Oklahoma City in 1921.
At the close of the season, both Wortham, and with fellow senior Ronnie Green, topped the 1,000-mark in rushing yards for the year. Wortham had 1,156 and Green recorded 1,286. It was the first time in the history of the Great American Conference that there were two 1,000-yard rushers on the same team in the same season.
Top 10 of 2016 – No. 10: Miller rides into Rangers' record books
Top 10 of 2016 – No. 9: Garcia dominates D-II discus world
Top 10 of 2016 – No. 8: OCU softball rolls to ninth national title
Top 10 of 2016 – No. 7: Hillcats take Heartland title
Top 10 of 2016 – No. 5: Sooners sweep gymnastics titles
Top 10 of 2016 – No. 4: Moon shines on perfect night
Top 10 of 2016 – No. 3: OCU earns three national championships in Daytona
Top 10 of 2016 – No. 2: Heath's walk-off grand slam gives OBU a national title
Top 10 of 2016 – No. 1: Big Mann on Campus